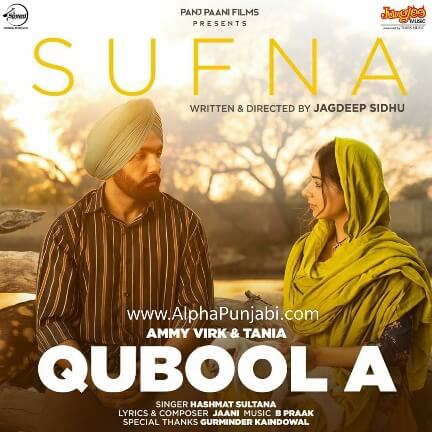 QuboolA Qubool A credits
Singer: Hashmat Sultana
Lyrics and Composer: Jaani
Music: B Praak
Mixing Mastering: Gurjinder Singh
Choreographer: Tushar Kalia
Director of Photography: Vineet Malhotra
Label: Junglee Music
Movie Review: Sufna is brilliant and must watch. Get 4.5 stars. Click for complete review.
Qubool A song links: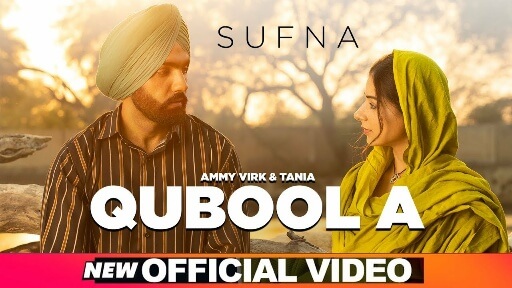 YouTube link: https://youtu.be/FouClnkLpvY
Audio Links:
Gaana: http://bit.ly/2FSSSAJ
iTunes: https://apple.co/2t6murV
Apple Music: https://apple.co/36NjfUG
Wynk: https://wynk.in/u/upnIL4t6W
JioSaavn: http://bit.ly/2teObPb
Amazon: https://amzn.to/30jjF2F
Spotify: https://spoti.fi/35MqQBv
Click here for complete coverage Sufna Punjabi Movie. Cast, trailer, review, songs and more.
Year started with buzz in Punjabi Film industry with promotions of movies scheduled for release in coming months taking leap.
Director of movie Jagdeep Sidhu had confirmed earlier that Songs of movie Sufna would be released before official trailer and keeping his word Qubool A is released on 14 January.
Music is an integral part of Jagdeep Sidhu movies with music of Qismat still among chart-busters, Sufna music is handled by hit duo of Jaani and BPraak while song is sung by talented sisters Hashma Sultana.
Further movie will feature total of five Songs. Sufna directed by Jagdeep Sidhu stars Ammy Virk and Tania in lead releases 14 February.
QuboolA Qubool A Lyrics
Pyar tera kare majboor sanam
Khafa di te gall badi door sanam
Door sanam
Pyar tera kare majboor sanam
Khafa di te gall badi door sanam
Qubool a, qubool a, qubool a
Mainu teri bewafai vi qubool ae
Fizool ae, fizool ae, fizool ae
Meri tere bina zindagi fizool a
Qubool a, qabool ae, qubool hai
Mainu teri bewafai vi qubool ae
Qubool a, qubool a, qubool a
Mainu teri bewafai vi qubool hai
Fizool ae, fizool ae, fizool ae
Meri tere bina zindagi fizool a
Main jad aan ve channa teri
Tu ae meri taahni
Bhull ke appan kade hona juda ni
Tu jo kahe to phir zehar vi khaani
Tanui bina vekhe appan peende ni paani
Asool ae, asool ae, asool ae
Ae mohobbat meri da asool ae
Qubool a, qabool ae, qubool a
Mainu teri bewafai vi qubool ae
Fizool ae, fizool ae, fizool ae
Meri tere bina zindagi fizool a
Mainu lagge duniya te
Tere layi hi aaiyan ve
Bhull gayi main khud nu te
Bhull gayi khudaiyan ve
Mainu manzoor Jaani teriyan buraiyan ve
Par manzoor hai ni teriyan judaiyan ve
Rasool ae, rasool ae, rasool ae
Tu mera allah maula wali tu rasool ae
Qubool a, qubool a, qabool hai
Mainu teri bewafai vi qubool hai
Fizool ae, fizool ae, fizool ae
Meri tere bina zindagi fizool a