Back in 2018, college students initiated project based on latest trending around entertainment world and came up with an idea of Web Series in Punjabi.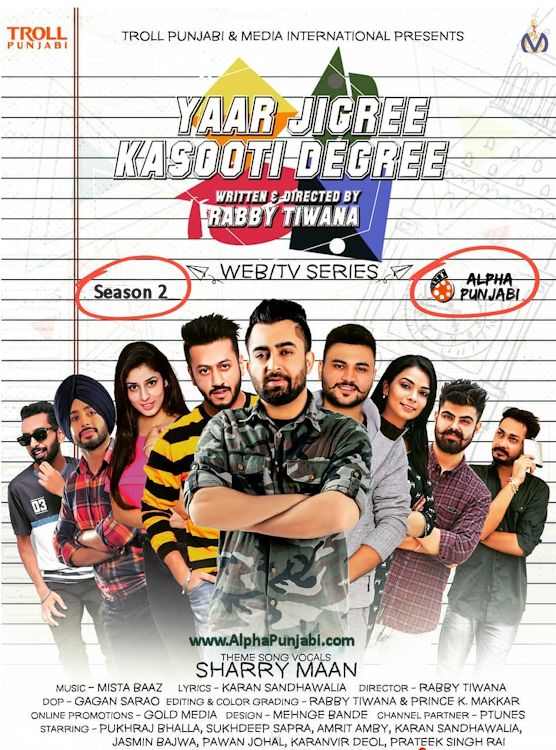 Titled "Yaar Jigree Kasooti Degree" and released Youtube in 2018 is first ever Punjabi Web Series. Season 1 was huge success and featured total 13 Episodes with around 24 million views as on date.
Story is based on Life of college students and circumstances around them. Story depicted was so real that it immediately hit right chord and everyone could relate to characters.
This web series paved way for Pukhraj Bhalla, Jasmin Bajwa, Amrit Amby and Hashneen Chauhan into mainstream films. Yaar Jigree Kasooti Degree is written and directed by Rabby Tiwana who is associated with satiric account Troll Punjabi on various social media channels.
Now as confirmed and after much of speculations Yaar Jigree Kasooti Degree – Season 2 is on its way and shoot has started. Last month makers had announced casting announcement to cast few new faces.
Also Read: Gippy Grewal's action packed Web Series Warning, Episode 1 and Episode 2
Much of cast from Season 1 has been retained while also few new faces are inducted. Season 2 is also written and directed by Rabby Tiwana and will be released on Troll Punjabi Youtube Channel. Exact date has not been confirmed yet, however as per media reports mid of may is speculated as release date of first episode.
Stay tuned and follow AlphaPunjabi.com for complete coverage of Yaar Jigree Kasooti Degree Season 2