Release Date: 29 June 2023
We have already witnessed few sequels in Punjabi Movies with last one Ammy Virk's Nikka Zaildar releasing third installment titled, Nikka Zaildar 3. Finally after waiting for two years, makers have formally announced release date of Carry on Jatt 3. Now movie is slated for 29 June 2023 release.
Movie stars Gippy Grewal and Sonam Bajwa in lead while supporting casts include artists from earlier installments Binnu Dhillon, Gurpreet Ghuggi, Jaswinder Bhalla, BN Sharma, Karamjit Anmol among others.
Music is by Jaani, where he is donning hat of lyricist, composer and music director.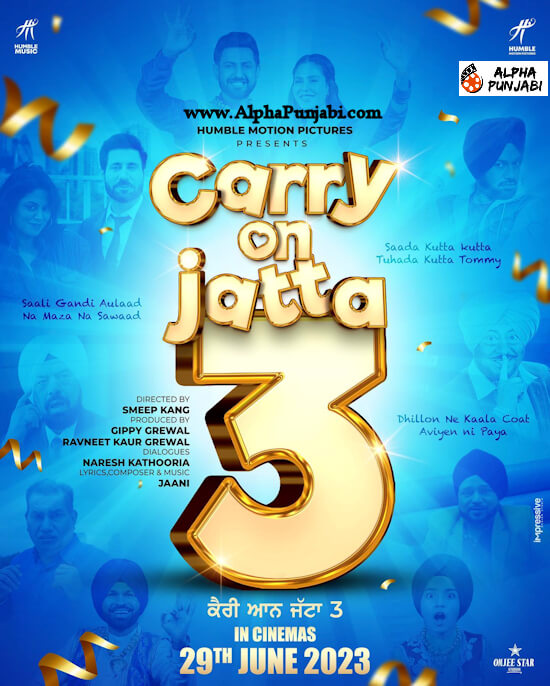 Predominantly, this trend was started by Diljit Dosanjh's Jatt & Juliet series, followed again by Diljit Dosanjh's Sardar ji series.
In-cashing on brand value at-least insures team of good boxoffice start which gives assurance to makers and hence their reliance on franchises as in bollywood.
Carry on Jatta's first installment released in 2012, paved way for successful duo of Smeep Kang and Gippy Grewal delivering hit movies and the duo event went on to make Gippy Grewal's Bollywood debut along with daughter of famous bollywood actor Govinda.
Confirming news, Smeep Kang mentioned release date of 25 June 2021 and is expected to take same cast including Binnu Dhillon, Jaswinder Bhalla, Gurpreet Ghuggi, Karamjit Anmol among others, movie will be directed and written by Smeep Kang and produced by Humble Motion Pictures.
Movie Credits
Genre: Comedy
Cast: Gippy Grewal, Binnu Dhillon, Jaswinder Bhalla, Karamjit Anmol,
Story: Smeep Kang
Direction: Smeep Kang
Studio: Humble Motion Pictures
Stay tuned and follow AlphaPunjabi.com for complete coverage of Carry On Jatta 3 and all Punjabi movies, songs and more..