Trailer of much awaited romcom Gurnam Bhullar, Sonam Bajwa starrer 'Main Viyah Nahi Karona Tere Naal' is released. Movie is slated for 4th March 2022 release.
Title song of movie sung by Gurnam Bhullar is already hit and is ruling charts/streaming platforms.
Within few hour of release, trailer has crossed 2 lakh views and is liked across with special mention to Gurnam Bhullar.
"Gurnam's Dialogue delivery is out of the world♥️✌🏻. The Trailer itself is a Masterpiece🔥👍🏻. Now exited to witness this in theaters on 4th March🤘🏻💥. Best wishes to the whole team of Main Viyah Nahi Karona Tere Naal♥️🤞🏻🧿."
"SUPER HIT, This is going to be watched again & again!!! Loving the cuteness & chemistry of these 2….❤️ Going to SMASH IT, Gurnam & Sonam… CAN'T WAIT!!!❤"
"One of the best thing about dude is that he never takes credit for himself when he achieves something. He always respect.us the audience and Team, and is polite in his all videos. We congratulate ourselves on this achievement more to come ❣️ u…❤❤️❤️❤️❤️❤️❤️🌚🌚"
Official Trailer
Youtube Link: https://youtu.be/9OIaz2a9I-E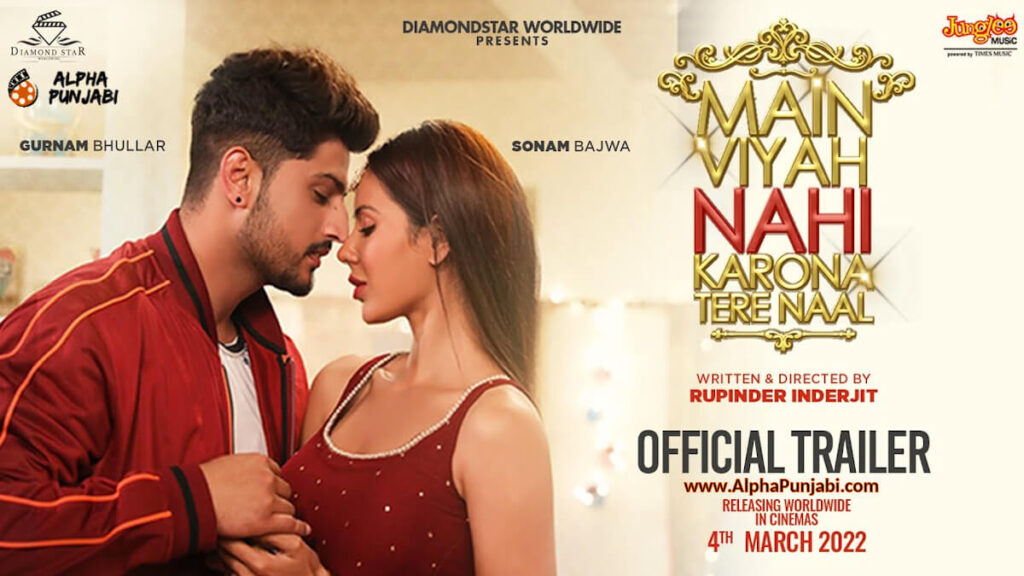 Stay tuned and follow AlphaPunjabi.com for complete coverage of "Main Viyah Nahi Karona Tere Naal".