Release Date: 9 April 2021
Seems Gippy Grewal is dealing with sequels, third installment of Carry On Jatta is recently announced with Smeep Kang.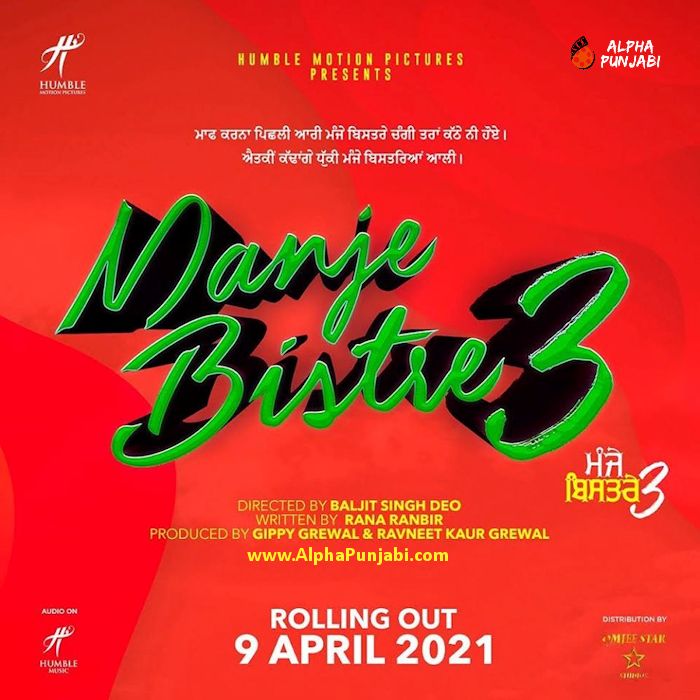 Moving further now third installment "Manje Bistre 3" is announced. Announcing Gippy Grewal mentioned following satire.
ਮਾਫ ਕਰਨਾ ਪਿਛਲੀ ਆਰੀ ਮੰਜੇ ਬਿਸਤਰੇ ਚੰਗੀ ਤਰ੍ਹਾਂ 'ਕੱਠੇ ਨੀ ਹੋਏ।
ਐਤਕੀਂ ਕੱਢਾਂਗੇ ਧੁੱਕੀ ਮੰਜੇ ਬਿਸਤਰਿਆਂ ਆਲੀ।
First installment of Manje Bistre set in India released in 2017 had Sonam Bajwa in lead along with Gippy Grewal. Second installment, released in 2019 was based in Canada and had Simi Chahal in lead with Gippy Grewal.
Female lead is not yet finalized, however supporting cast remains more or less same with Rana Ranbir, Gurpreet Ghuggi and Karamjit Anmol.
Rana Ranbir has written story and is directed by Baljit Singh Deo. Presented by Humble Motion Pictures will be released on 9 April 2021
Stay tuned and follow AlphaPunjabi.com for complete coverage of "Manje Bistre 3" and all Punjabi movies, songs and more.