Release Date: 17 January 2020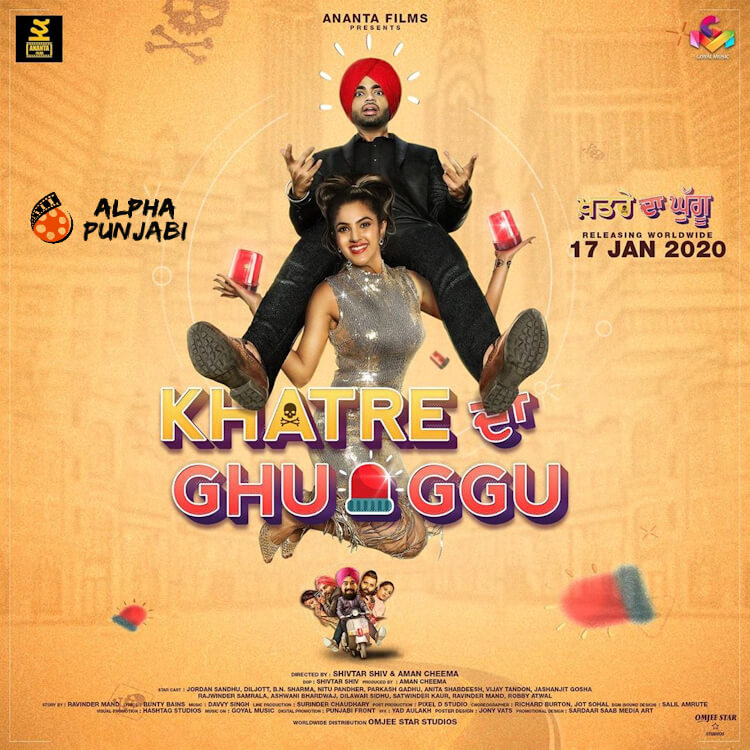 Genre: Comedy, Drama
Running Time: 1 hrs 58 mins
Cast: Jordan Sandhu, Diljott, B.N. Sharma, Anita Shabdeesh, Prakash Gadhu, Nitu Pandher, Jashanjit Gosha, Ravinder Mand, Bashir Ali, Vishal Singh Deot, Davvy Singh, Vijay Tandon, Dilawar Sidhu
Director: Shivtar Shiv, Aman Cheema
D.O.P: Shivtar Shiv
Music : Davvy Singh
Writer : Ravinder Mand
Producer: Aman Cheema
Studio: Ananta Films
"Khatre Da Ghuggu" is an upcoming punjabi movies starring Jordan Sandhu, Diljott and comedy king B.N Sharma. This outright laughter is directed by duo of Shivtar Shiv and Aman Cheema whereas Director of photography is also Shivtar Shiv.
Khatre Da Ghuggu Synopsis
The story of this film revolves around 'Fateh' (played by Jordan Sandhu) who works as a RJ to earn money and fulfill his childhood dream of becoming a singer. From his huge fan following, he meets 'Meet' (played by Diljott) who falls in love with him. They both get attracted to each other and fall in love.
But as always this path is not so easy. The girl's father 'Kanwar Mahinder Singh' (played by the talented comedian B. N. Sharma), who works for the Punjab Electricity Board, is already unhappy with his family, office workers and his whole life. He is a very superstitious person which causes laughter and fun.
With many ups and downs because of a gangster, an astrologer, a hypocrite and various circumstances, story proceeds in a comic and interesting way. Will the Meet get his love, will Fateh become a singer, will enthusiasm come back in her Kanwar Mahinder Singh's life? All these questions are answered in an entertaining way in the film 'Khatre Da Ghuggu'.
Khatre Da Ghuggu Official Trailer
Although Jordan Sandhu and Diljott are playing lead in this movie but from trailer it appears movie is all about B.N Sharma as he is frequently appearing in almost all scenes, not to forgot his comic timing which is commendable.
Youtube Link: https://youtu.be/lrcTSJU9_cA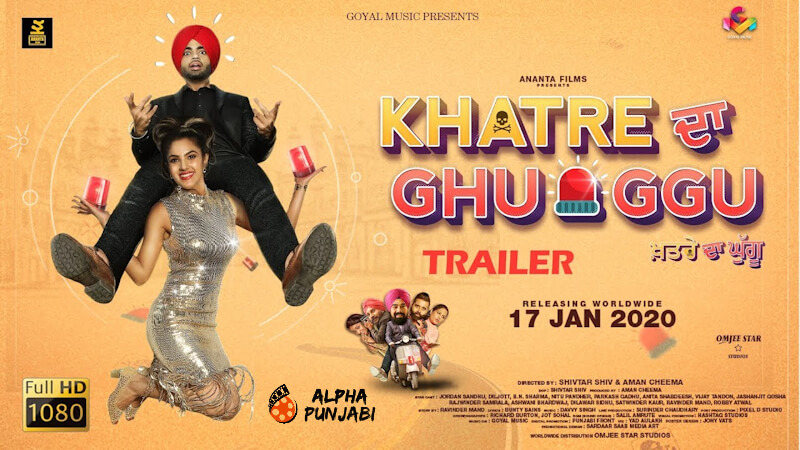 Jordan can be seen romancing with Diljott(Diljit's Patiala Peg girl) and has sung few noteworthy songs(atleast two) while music department is handled by Davvy Singh
In the Madness of Superstition, Khatre Da Ghuggu produced by Ananta Films is written by Ravinder Mand and releases 17 January 2020
Stay tuned and keep visiting AlphaPunjabi.com for complete coverage of #KhatreDaGhuggu and all Punjabi movies.