Zafarnamah (Zafarnama) is a letter written by tenth Sikh Guru Gobind Singh Ji in 1705 AD to Mughal Emperor Aurangzeb in persian language after the Battle of Chamkaur. Refer: SikhWiki for details.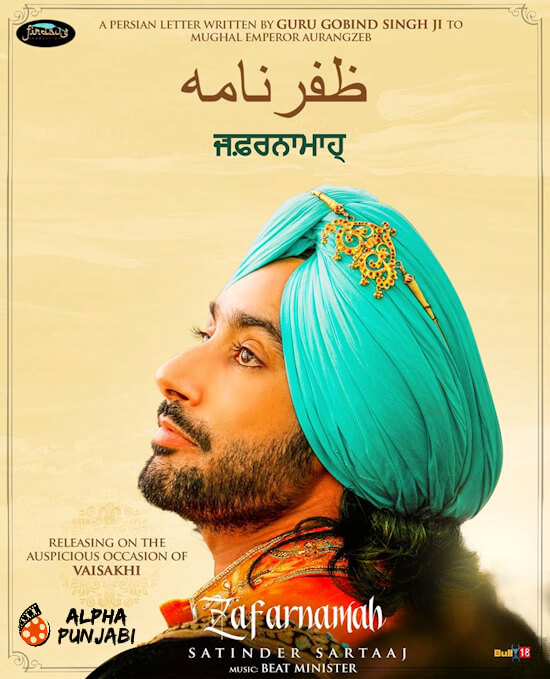 Well known and regarded artist Satinder Sartaaj has finally attempted reciting Zafarnamah (ਜ਼ਫ਼ਰਨਾਮਾਹੑ – ظفرنامه – ) written in Persian language. Undoubtedly lot of research and hard-work is done in releasing final version so much so that Perian language assistance has been taken from Muzaffar Ali and Aziz Mahdi from Embassy of Iran.
👍 Like our Facebook page and stay updated with everything happening around Punjabi Films
Released on auspicious day of Vaisakhi amid Cronavirus pandemic, this is being appreciated by people at large.
Youtube Link: https://youtu.be/dSzFLZwEwF4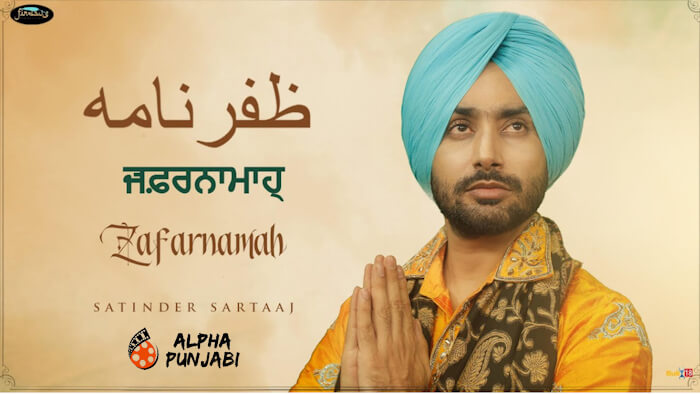 It has been advised that Zafarnamah is recorded 1st time in the History, composed and sung by Satinder Sartaaj while music is done by his associate Beat Minister. In research Satinder is supported by Jasjeet Singh & Dr. Mandeep.
Announcing, Satinder mentioned " ਜ਼ਫ਼ਰਨਾਮਾਹੑ – ਗੁਰੂ ਗੋਬਿੰਦ ਸਿੰਘ ਜੀ " ਨੂੰ ਆਪਣੀ ਤਵਾਰੀਖ਼ 'ਚ ਪਹਿਲੀ ਵਾਰ ਮੁਕੰਮਲ ਤੌਰ 'ਤੇ ਪੇਸ਼ ਕਰਨ ਸਦਕ਼ਾ ਬਹੁਤ ਵਡਭਾਗਾ ਮਹਿਸੂਸ ਕਰ ਰਿਹਾ ਹਾਂ । ਹਾਲਾਂਕਿ ਫ਼ਾਰਸੀ ਜ਼ੁਬਾਨ ਹੁਣ ਸਾਡੀ ਜ਼ਿੰਦਗੀ ਦਾ ਓਸ ਤਰ੍ਹਾਂ ਹਿੱਸਾ ਨਹੀਂ ਰਹੀ ਲੇਕਿਨ ਮੱਧ-ਪੂਰਬੀ ਮੁਲਕਾਂ ਦੇ ਤਕ਼ਰੀਬਨ 11 ਕਰੋੜ ਲੋਕਾਂ ਵਿੱਚ ਇਹ ਜ਼ੁਬਾਨ ਓਸੇ ਤਰ੍ਹਾਂ ਬੋਲੀ ਜਾਂਦੀ ਹੈ। ਏਸ ਇਤਿਹਾਸਿਕ ਕੰਮ ਨੂੰ ਜ਼ਿਆਦਾ ਤੋਂ ਜ਼ਿਆਦਾ ਬਾਰੀਕੀ ਤੇ ਸਹੀ ਤਰੀਕੇ ਨਾਲ਼ ਕਰਨ ਲਈ ਮੈਂ ਇਰਾਨੀ ਸਫ਼ਾਰਤਖ਼ਾਨੇ ਦੀ ਵੀ ਮੱਦਦ ਲਈ । ਦੁਨੀਆ ਦੇ ਏਸ ਮੁਸ਼ਕ਼ਿਲ ਵਕ਼ਤ ਵਿੱਚ ਆਪਣੇ ਏਸ ਉੱਦਮ ਰਾਹੀਂ ਆਪ ਜੀ ਨੂੰ 'ਚੜ੍ਹਦੀ ਕਲਾ' ਦੇ ਪੈਗ਼ਾਮ ਨਾਲ਼ ਵੈਸਾਖੀ ਮੁਬਾਰਕ ਹੋਵੇ ਜੀ । – ਡਾ. ਸਤਿੰਦਰ ਸਰਤਾਜ "
Feeling blessed to record the full version of "Zafaranamah – Guru Gobind Singh Ji " 1st time in the history. Persian language is not very familiar for our land in the present time but there are over 110 million people speaking this language in the world. I tried to perform it in the best possible way with the assistance from The Embassy of Iran. During this hard time sending you the message of 'High Spirit, & wishing you a Happy Vaisakhi. – Dr. Satinder Sartaaj
His redemption might attract lot of criticism in regards to pronunciation, grammatical errors and even the word formation, however his extraordinary efforts, dedication and focus in bringing out this important piece of history would be remembered by many generations to come.
In-case interested, kindly refer to written version available at Punjabi Digital Library: Click here
Credits
Composer / Singer – Satinder Sartaaj
Music Arranged and Programmed by – Beat Minister
Video Conceptualised by – Sandeep Sharma
Banner- Firdaus Production
Recorded at – Nazm-Gaah Chandigarh by Satinder Sartaaj
Research Assistance – Jasjeet Singh (California) & Dr. Mandeep
Persian Assistance – Muzaffar Ali, Aziz Mahdi ( Embassy of Iran )
👍 Like our Facebook page and stay updated with everything happening around Punjabi Films